By: Gergely Hubai, Film Music Author and Professor of Film History, Eötvös Loránd University
---
With a career already spanning 50+ films, 25+ television series' and countless other commissions from advertising to video games, LA-based composer Eric Hester proves to be a versatile and visionary artist. He has a penchant for theme, crafting classic orchestral scores in the old tradition while keeping a firm grasp on the contemporary. His work has won him many awards, among them are: Aurora Award, Omni Award, Axiem Award, Accolade Award, Telly Award, three John Lennon Songwriting Awards,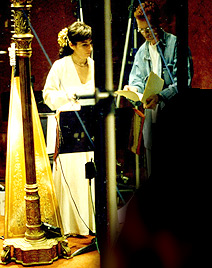 On the scoring stage.
three Emmy nominations (as a contributing composer/arranger) and at the age of 19, he was the youngest nominated songwriter for the CableAce Award, losing out to legend Carly Simon. Eric Hester has built an impressive portfolio by writing sensitive and authentic music with tremendous dramatic impact.
Eric was born in Las Vegas under the bright lights of the neon city, moving with his family to the palm trees and beaches of Southern California when he was five. Eric grew up in a musical family, spending much of his childhood in the recording studio and on tour. From an early age he studied drums and woodwind instruments, and was self-taught on various other instruments to satisfy his natural curiosity. In high school he took general music studies from Michael Bacich (keyboardist and songwriter from Oingo Boingo) and later a short stint at the University of California Los Angeles' extension program. Eric's aim to become a film composer was motivated by a chance discovery at the legendary Todd-AO scoring stage. While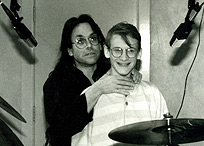 In studio with TOTO drummer Jeff Porcaro. Mid 1990s
working nearby he discovered an attic space above the recording hall; There the young composer secretly became the first ear witness to dozens of large-scale orchestral film scores recorded there. Eric went on to apprentice under several well-known Hollywood composers before stepping out on his own.
Eric's film credits cover a broad range of genres from quirky comedies to powerful dramas. He wrote the charming Christmas-flavored score to
Snowball: The Missing Reindeer
, and
Lost Mission
, a chilling ghost story of five soldiers whose worst fears manifest in the spirit of a dead German soldier and the score's haunting choral work. In Paramount's dramatic murder mystery
Three Blind Mice
, Eric used elements of Vietnamese music in a more textural context to evoke war crimes of the past. The same attention to detail is evident in his other eclectic film projects such as
Bollywood and Vine
,
The Fountain
,
Jack
,
Lost Mission
,
A Night at Sophie's
,
The Boy Pirate
and
Client 3815
among many others.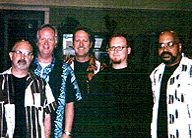 On set, ABC's "Rodney". Composer Eric Hester second from right.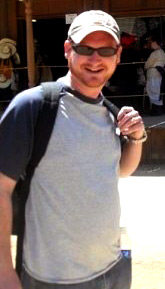 At the Melody Ranch Motion Picture Studio.
Eric's work in television covers an equally broad ground; His recent credits include the action-packed Bourne-inspired score for
The Bullet Catcher
and the Hollywood behind-the-scenes comedy
Women on Top
. He provides inspirational and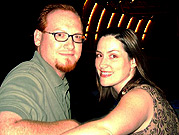 With wife Charity at the Hollywood Bowl.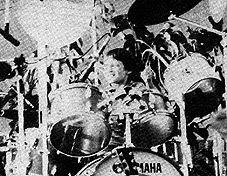 Performing on drums at age 8.

uplifting emotions for CBS's
NFL Football
programming and brash progressive stylings to MTV's
Parental Control
. Eric also produced and arranged the theme song to
Zoey 101
– written by Britney Spears. Other credits include
Star Trek Enterprise
(UPN),
Nash Bridges
(CBS),
The Pretender
(NBC) and
Rodney
(ABC) to name a few.
As a testament to his versatility, Eric's most recent scores found him tackling more serious subjects with thematically conscious orchestral scores. The latest title in Eric's expansive filmography is the upcoming
Drawn from Water
, a bleak documentary about child sacrifices in Ethiopia. The score highlights the African influences, culminating in a song performed by native Lale Labuko in the tribal language "Kara". In Warner Bros'
The Utopian Society
, Hester's music builds upon six distinct individuals as they plan the perfect co-existence and brings their differences into harmony.
The Tale of Peter Rabbit
marks the latest title in Eric's catalogue to receive a soundtrack album release, providing adventurous music in leitmotif form for Beatrix Potter's popular characters. Other titles from Eric's catalogue are available on cd, Apple's iTunes, Amazon.com and CdBaby.com.
Eric resides in Los Angeles with his wife Charity and their daughter, where Eric also manages the newly formed Eric Hester Music Library, a production music and licensing company. His affiliations include the Academy of Television Arts and Sciences, the American Society of Composers, Authors and Publishers, and Broadcast Music, Inc. The composer is represented exclusively by Jeff Kaufman at The Kaufman Agency. Visit
www.HesterMusic.com
for more information, music samples and a complete list of credits.